The KNOX-BOX® rapid entry system is a secure emergency access program developed for property owners and fire departments. When a fire breaks out or there is a medical emergency, Knox® products allow emergency entry into buildings and property without forced entry damage or delay.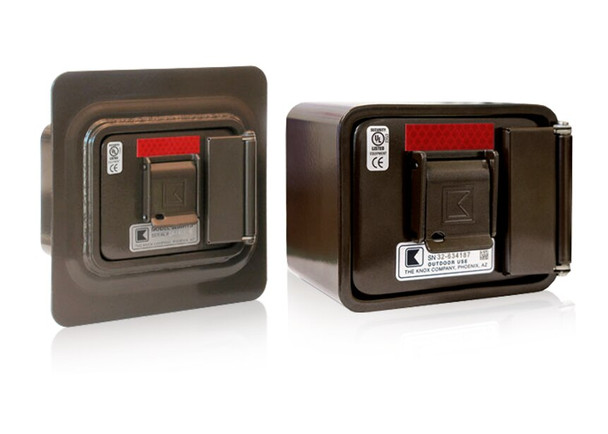 Property owners store entrance keys, access cards and floor plans in high-security Knox-Boxes mounted where directed by the Fire Marshal. Each Knox-Box in the city is keyed to a master key controlled only by the Simsbury Volunteer Fire Company.

Knox padlocks and key switches operate with the same master key. These items help expedite emergency responders, Fire and EMS, responding to gated communities, apartments, and businesses. Increased property damage and even total loss is a threat when property is not accessible. Reduced response time to medical emergencies can be critical for successful outcomes, managing pain and saving lives.

The Knox-Box Rapid Entry System was developed to save property and lives.

Knox-Box products can now be ordered online at www.knoxbox.com.

KNOX-BOX SELECTION
3200 Series Knox-Box is the smallest model approved for commercial use, but the selected Knox-Box must be large enough to accommodate all keys and magnetic cards necessary for Fire Department access to all areas of the building;
"Tamper-switch" is optional;
Recess-mounted, and hinged door models, are preferred.
KNOX BOX INSTALLATION
Install the Knox-Box, on the exterior of the building, where directed by the Fire Marshal. Typically, this will be at the best access to the fire alarm control panel and the fire sprinkler riser room;
If a tamper switch is connected to the automatic fire alarm system or security system, it must report a "supervisory" condition – never an "alarm" condition;
Install the Knox-Box approximately 6-feet high (accessible without a ladder);
Do not discard the red reflector decal provided with the Knox-Box. Fire Department will install this decal to identify the location of the Knox-Box for responding emergency personnel;
Clearly and permanently identify the function of each key, using durable tags (master, elevator, alarm panel, etc.).
KNOX FDC/STORZ CAPS, PADLOCKS, KEY SWITCHES, ETC…:
These and other items, can be ordered using the same procedure:
Knox FDC Caps/StorzGuard Caps are required for all newly constructed fire sprinkler and standpipe systems. These are also required where caps are missing, where such systems are substantially remodeled, and as otherwise directed by the Fire Marshal. These prevent debris from entering and damaging the system and obstructing water flow. All systems must be "flushed" before installing Knox Caps;

Knox Padlocks are required where padlocks are used at security gates across fire lanes, and where otherwise approved and directed by the Fire Marshal;

Knox Key Switches are required where approved for access control systems, and security gates across fire lanes.