Fire Officers provide structure in the department and leadership on the fire ground.
Although it is every member's responsibility to ensure that the department is always ready to respond to, and mitigate any incident to which we may be dispatched, it is the officer's primary responsibility to ensure departmental readiness. This is accomplished by implementing a proper training curriculum which is revising as needed, ensuring that appropriate equipment is available and maintained in good working order, and by making command decisions and providing direction at incidents, just to name a few.
The Simsbury Volunteer Fire Company currently utilizes a command structure of twenty officers. At the top of the chain of command is the Chief of the Department assisted by a Deputy Chief, 1st Assistant Chief two 2nd Assistant Chiefs.
One Captain is assigned to each of the six fire stations to administrate operations. Lieutenants are also assigned to each station who help lead crews and oversee apparatus readiness.
Members of the Fire Company don't select their fire officers by voting. Instead, the Chief of the Department is appointed by the Fire District, who serves an opened-ended term at the Fire District's pleasure. Adjutant Chiefs are selected by the Department Chief. Captains are promoted from the membership ranks by the Chief of the Department. Appointment to the officer position follows an application period where oral interviews are held with ranking officers and a one-on-one interview with the Chief of the Department.
You can learn about the Chiefs of the Simsbury Volunteer Fire Company, who are responsible for leading our department, in the section below. Photographs of the Captains and Lieutenants can be found on the Fire Stations pages.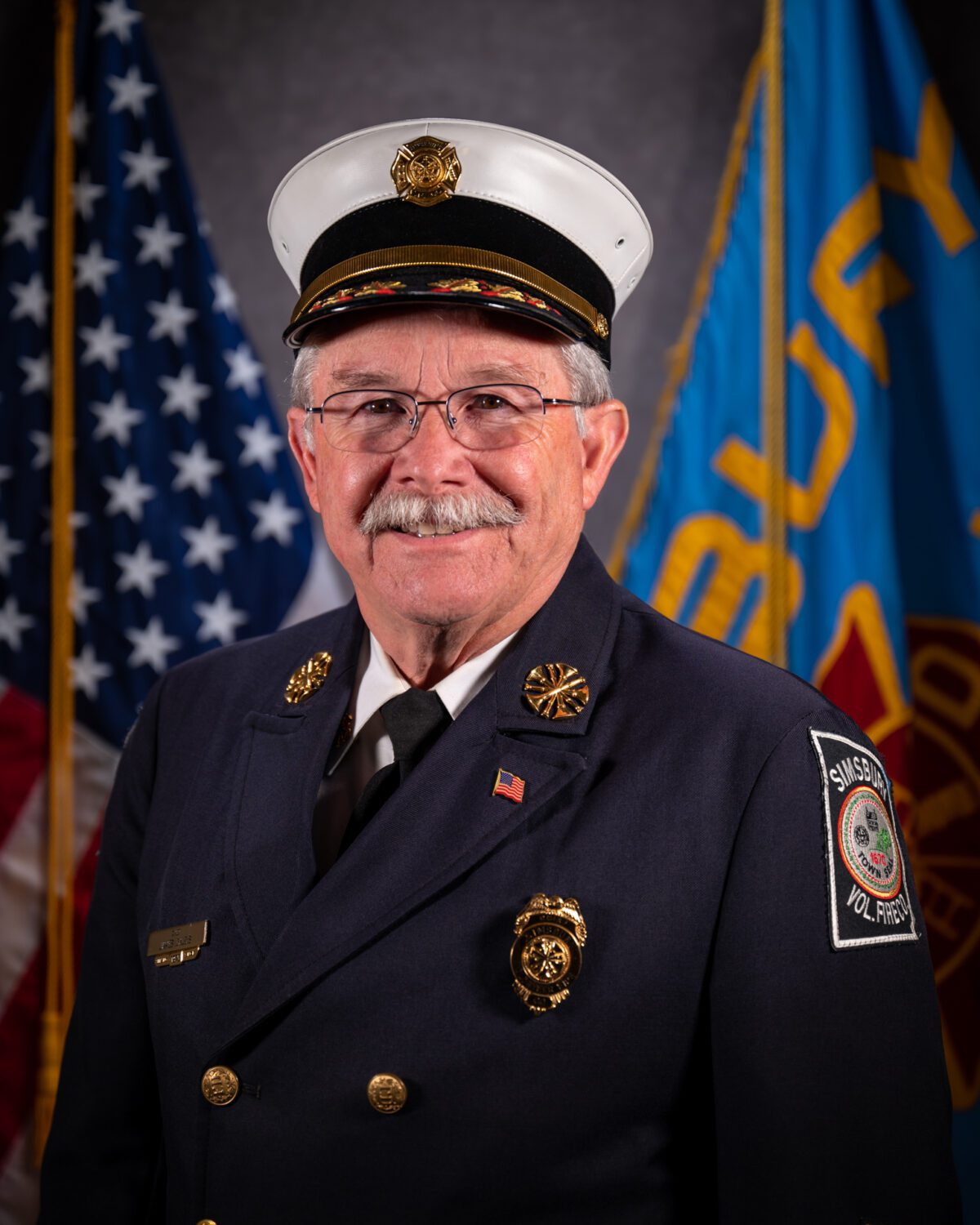 CHIEF OF THE DEPARTMENT
JAMES A. BALDIS
A member of the Simsbury Volunteer Fire Company since 1975, James A. Baldis was promoted to Chief of the Department in January 2005. As Chief of the Department, James Baldis is ultimately responsible for managing all aspects of the department. These duties include but are certainly not limited to developing Standard Operating Procedures for the Fire Company to operate by, establishing goals for the Fire Company and its members and providing the leadership and discipline needed to reach them, and managing emergency incidents as a command officer by providing direction and making decisions necessary to mitigate the incident.
Chief Baldis first became an officer in 1983 when he was promoted to Lieutenant. In 1993 he was elevated to Captain and assigned to the West Simsbury Station. Then in 1996, James Baldis was appointed to Assistant Chief, where he also served as the department's Training Officer during his tenure. Prior to his promotion as Chief of the Department, James Baldis served for nearly six years as Deputy Chief, second in command of the department.
Chief James Baldis has extensive training in the fields of business management and the fire service, making him well qualified to lead the department. He has attended the Business Management program at the University of Hartford and TQM Company Quality Improvement Training by the Forum Corporation, and is a graduate of the Times Mirror Executive Leadership Institute, just to name a few.
Chief Baldis has attended the Fire Department Instructors Conference numerous times, and has also taken many classes presented by the National Fire Academy of Emmitsburg, Maryland, and the Connecticut Fire Academy in Windsor Locks. Some of his qualifications include Trench Rescue and Confined Space Rescue, and state certifications as a Safety Officer, Hazardous Materials Technician and Medical Response Technician (MRT).
James Baldis is certified by the State of Connecticut as a Fire Service Instructor I, and has taught for the Hartford Country Regional Fire School at the Connecticut Fire Academy since 1980. He was named an Assistant Director of Training for HCRFS in 2003, Co-Director in 2010 and Director of Training in 2017 and his duties include coordinating instructors for classes, ensuring documentation requirements are met for training activities in order to achieve state certification, and overseeing all outside department requests for live fire training at the facility.
Chief Baldis is a member of the Fire Department Safety Officers Association, Connecticut Fire Chiefs Association, New England Association of Fire Chiefs, International Association of Fire Chiefs, International Society of Fire Service Instructors and the National Fire Protection Association. Chief Baldis also serves on the Education Sub Committee for the Connecticut State Firefighters Association and serves as President of the Hartford County Fire Emergency Plan. Chief Baldis is also a member of the Captial Region Hazardous Material Response Team serving as the Execitive Officer for the team.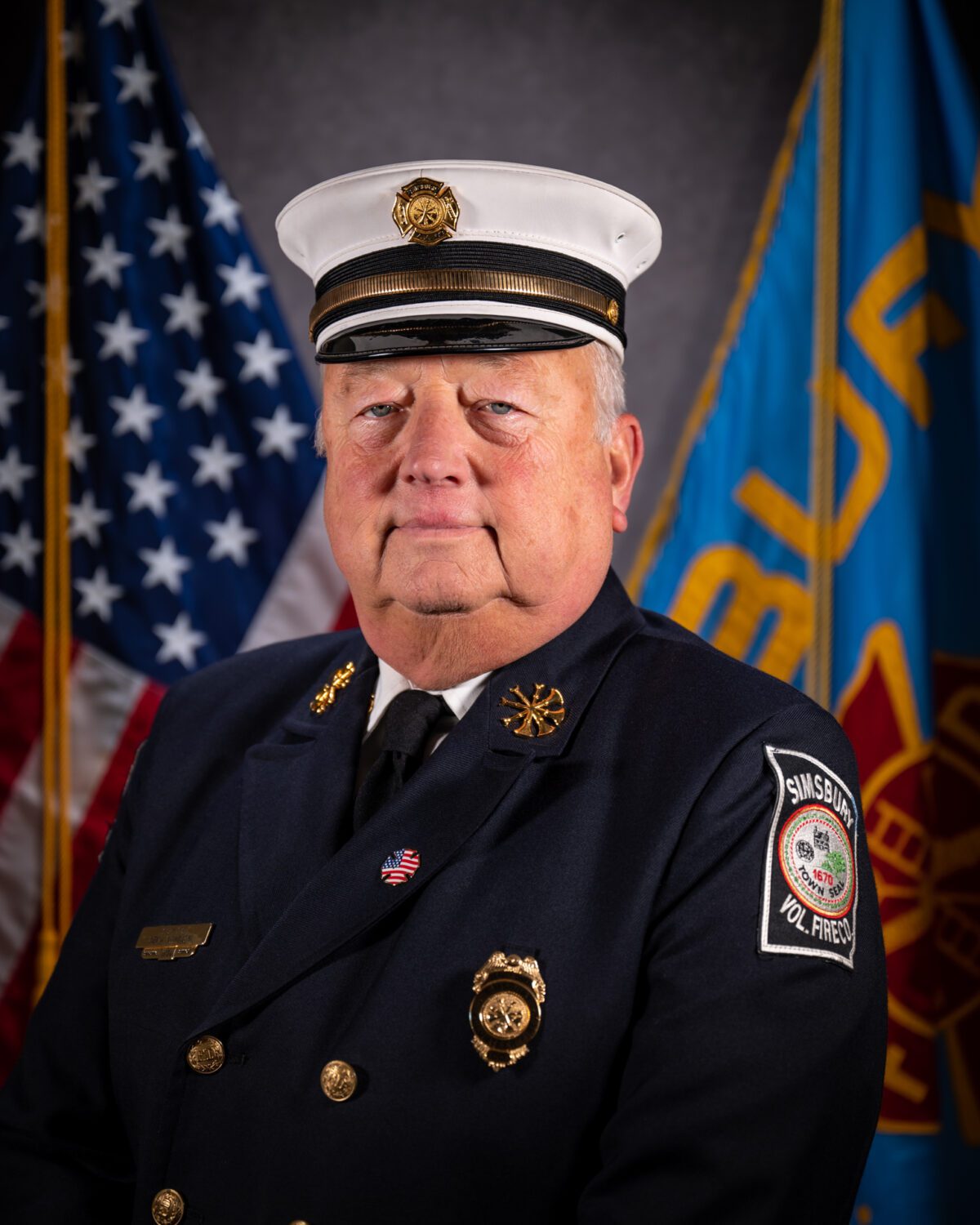 DEPUTY CHIEF
KEVIN J. KOWALSKI
A member of the Simsbury Volunteer Fire Company since 1974, Deputy Chief Kevin J. Kowalski has been in the fire protection and prevention fields for 30 years. While in the Connecticut Air National Guard, he held the rank of Master Sergeant and served as the Assistant Chief of Operations at the Bradley Air Guard National Base. For 11 years he was the Fire Chief for Kaman Aerospace Corporation where he managed the fire protection for all facilities including directing an aircraft fire rescue team.
Since 1988, Kevin Kowalski has been employed by the Simsbury Fire District as the Fire Marshal where his duties include fire prevention for the town through programs such as building inspections and public fire education, and working with town officials on pertinent issues such as alarm ordinances, the Knox Box program, and writing pre-plan.
Besides the typical duties associated with being a chief at emergency and non-emergency incidents, Kevin Kowalski is also assigned as the Chief of Administrative Services. These duties include but are not limited to budgeting, facilitating the ISO inspection, and directing committees on issues such as the departmental communication system and the Fire District automation committee.
Chief Kowalski earned his Fire Protection Rating from the U.S. Air Force, an Associate's Degree in Fire Science from the Community College of the Air Force, has National Fire Protection Association certifications as a Fire Marshal, Fire Instructor, Fire Officer III and Fire Safety Officer from the State of Connecticut, and aWMD Instructor certification from the Department of Homeland Security, just to name a few.
Chief Kowalski is a member of several professional organizations, having served as past president for the Capitol Region Fire Marshals Association, Connecticut Fire Marshals Association and New England Association of Fire Marshals. In addition, Chief Kowalski has served as the Civil Preparedness Director for the Town of Simsbury since 1990, and is the Vice-Chairman of the State of Connecticut Commission on Fire Prevention and Control.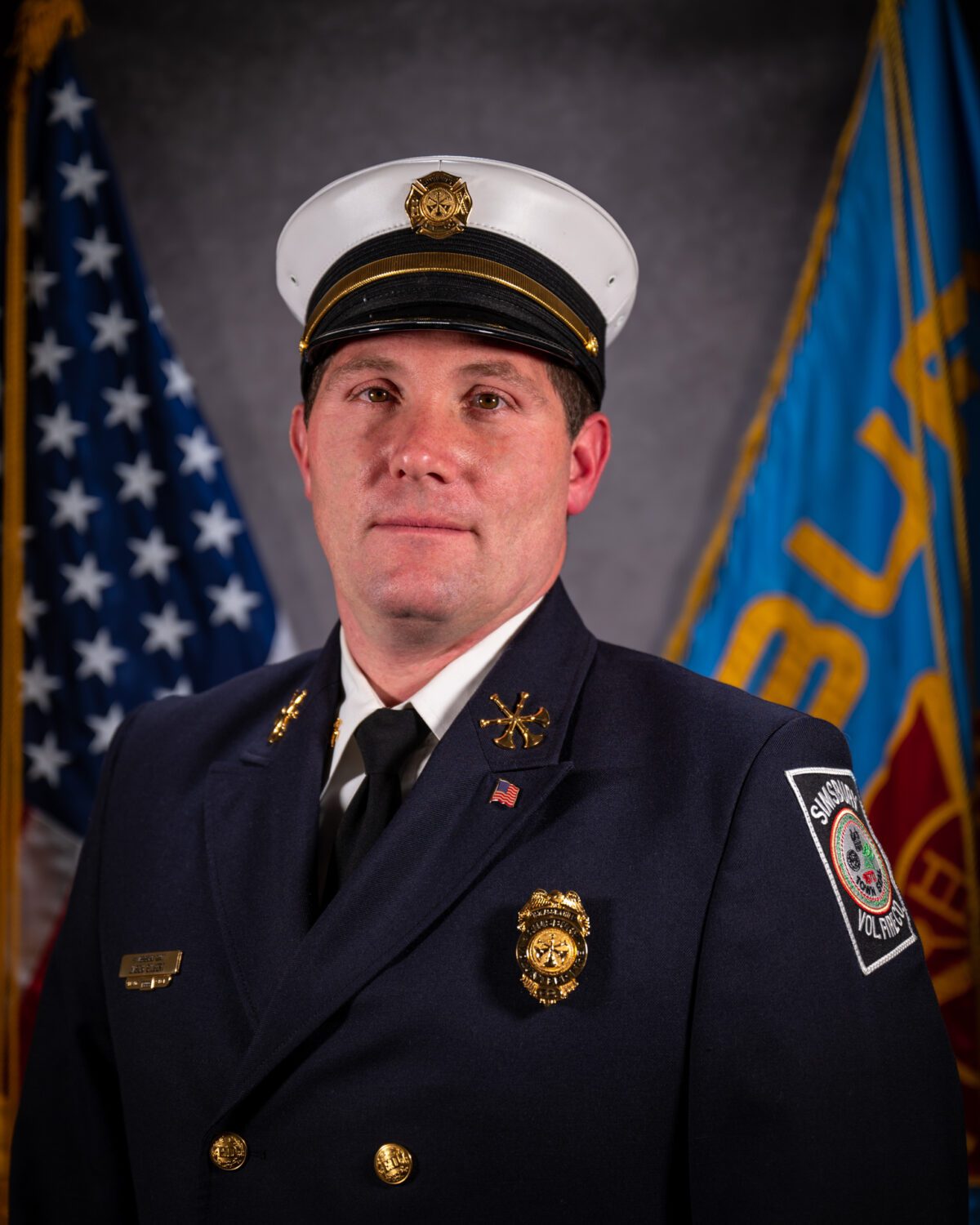 1ST ASSISTANT CHIEF
CHIEF OF PERSONNEL
JASON R. GILBERT
Jason R. Gilbert is a third generation member of the Simsbury Volunteer Fire Company with his grandfather and father serving as members before him. Jason Gilbert joined the Fire Company as a Junior Firefighter at 15 years old and became a probationary member when he turned 18. After obtaining his State of Connecticut Firefighter 1 certification and "Q" fire apparatus license endorsement, Jason became a regular member and Engineer assigned to the Bushy Hill Station on Rescue 14. He continued his fire service education becoming State certified as Firefighter 2, Fire Service Instructor 2, Fire Officer, Incident Safety Officer, Confined Space Technician, Haz-Mat EPA Technician, Rescue Core, and many other Leadership Programs. Through his career, he has continued to attend numerous classes, conferences, and trainings through many different venues such as FEMA, IAFC, FDIC, and Firehouse.
Chief Gilbert rose through the ranks having been promoted to Lieutenant in 2006 where he was assigned to the Firetown Station, then transferred to the Main Station. He was promoted to Captain of the Firetown Station in 2011 where he promoted team building, readiness and station pride. During this time Jason was also the Program Director for the Junior Firefighter Program within the Simsbury Volunteer Fire Company. He was tasked with training the high school aged members firefighting skills, life lessons, and team building. In 2018 he was promoted to 2nd Assistant Chief and was assigned the Chief of Training position. In October 2019 he was promoted to his current position, 1st Assistant Chief, Chief of Personnel. In this position Chief Gilbert is responsible for managing the department most important asset, it's people. One of the most important duties in this position is overseeing a group of members called the Personnel Committee, this group is tasked with interviewing potential candidates for the fire company. Also under the direction of Chief Gilbert is the Recruitment and Retention Committee, which looks at ways to bring in new members and keeping the members that we have within the company.
For the past 10 years Chief Gilbert has also been a very active instructor with the Hartford County Regional Fire School located on the property at the Connecticut Fire Academy in Windsor Locks. His primary focus is the Firefighter 2 program bringing firefighters to the next level of training after their entry level certification is completed.
Chief Gilbert is a member of the International Association of Fire Chiefs, New England Association of Fire Chiefs, Connecticut Fire Chiefs Association, and the Connecticut Fire Department Instructors Association.
Jason is a Simsbury native having attended local schools and excelled in sports in high school especially lacrosse and hockey. He continues to follow his interest in sports as a Lacrosse Coach for Simsbury High School. Jason is also a fourth generation plumber working side by side with his father Peter of Gilbert Plumbing, LLC.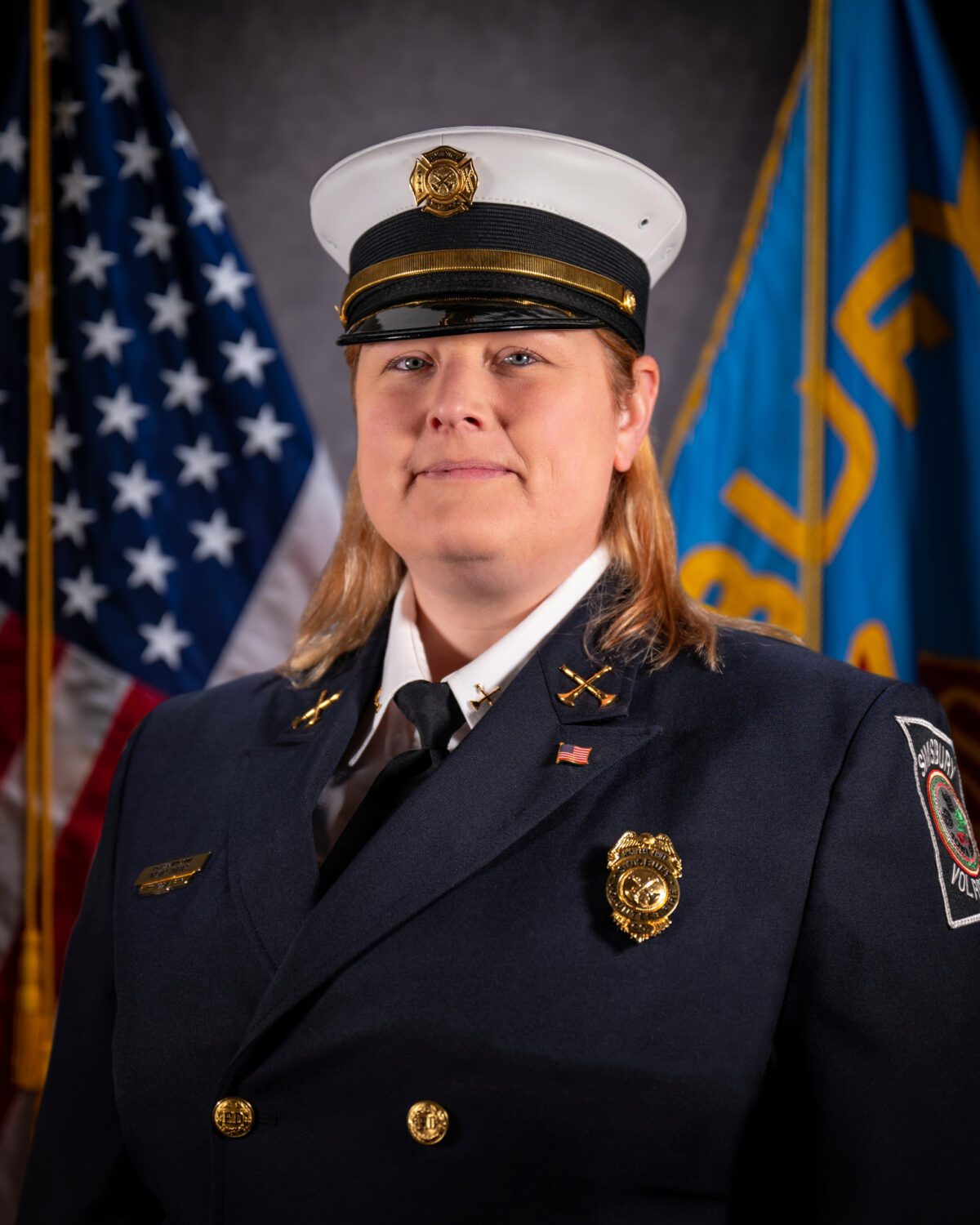 2ND ASSISTANT CHIEF
CHIEF OF TRAINING
KRISTIN L. KELLEY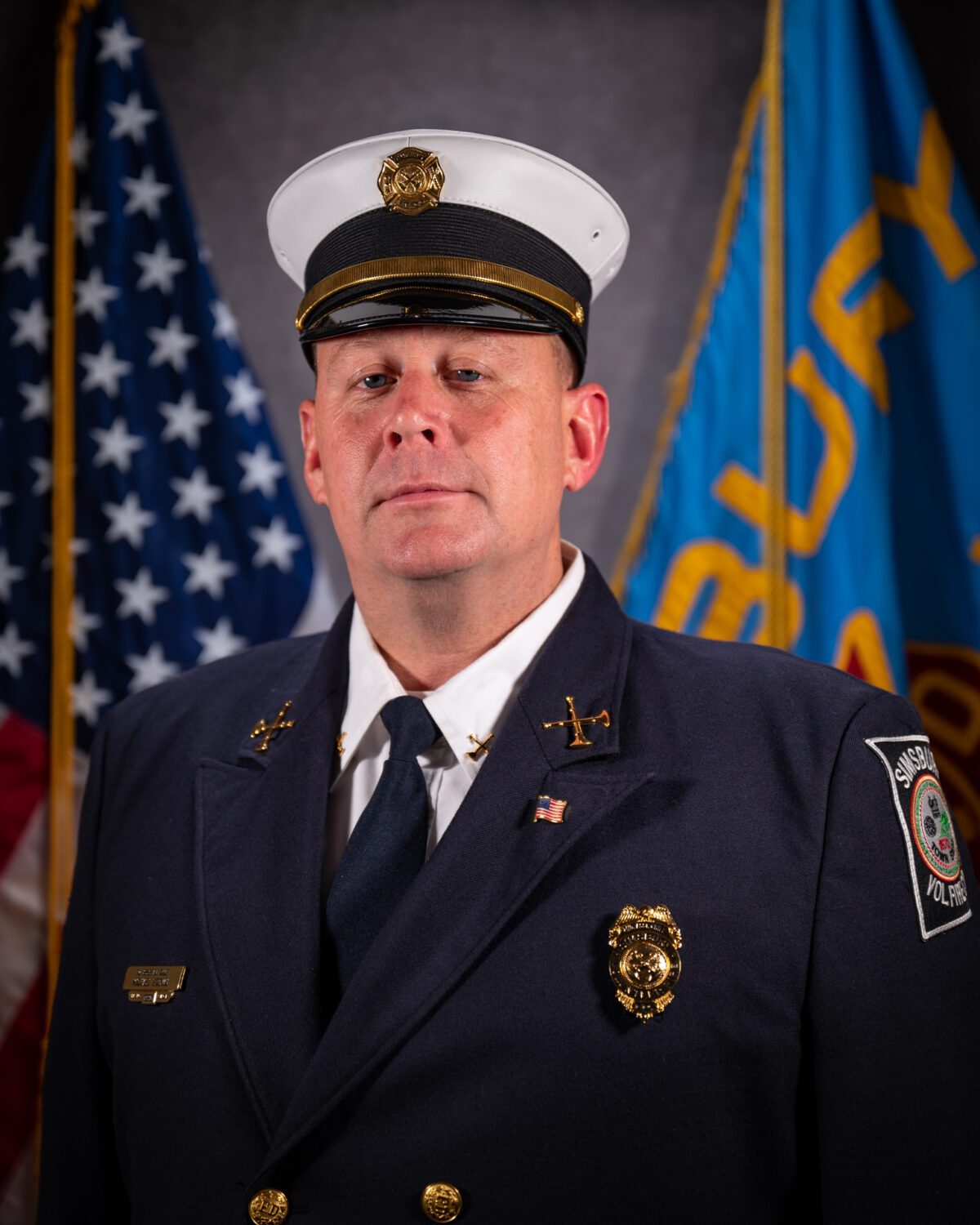 2ND ASSISTANT CHIEF
CHIEF OF SAFETY & EQUIPMENT
MICHAEL BROWN