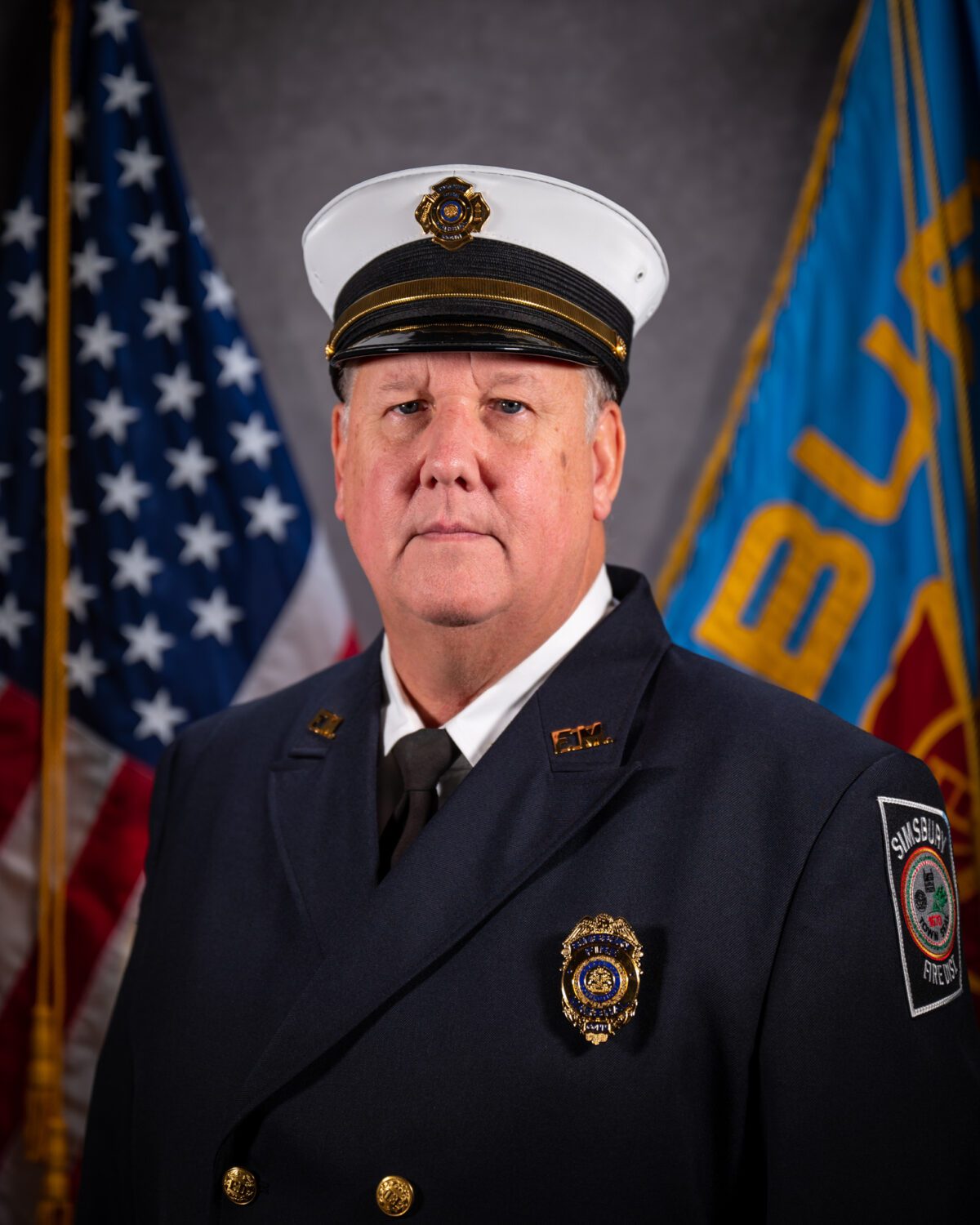 Fire Marshal Patrick T. Tourville
Office of the Fire Marshal
871 Hopmeadow Street
Simsbury, CT 06070
Phone: 860-658-1971
Fax: 860-658-5611
[email protected]
OFFICE OF THE FIRE MARSHAL & PUBLIC FIRE EDUCATION
In this section of the website, you can learn about the Fire Marshal's Office and the numerous ways in which they work to keep the Town of Simsbury, its citizens and the public safe from the hazards of fire and other associated dangers. On the Knox-Box Entry System and Open Burning & Use of Fireworks pages, you will find information concerning important Simsbury ordinances.
This section contains an immense amount of information on how to help protect your family and your property from fire-related dangers. Important topics such as Smoke Alarms, Home Fire Sprinklers, portable Fire Extinguishers and Fire Escape Planning are discussed, just to name a few. Additionally, other home safety topics such as Carbon Monoxide and Hazardous Materials in the Home are also covered. There are also some fun activities and age appropriate information for children regarding fire safety in the Fun For Kids section.
Near the bottom of the this page you will find the Public Education Survey form. If you attended a public education presentation and would like to leave a comment concerning it, please feel free to submit your comments via the survey.
If you still have questions after reviewing any of these sections, please do not hesitate to contact the Fire Marshal's Office.
FIRE MARSHAL'S OFFICE
A direct extension of the Simsbury Fire District, the Office of the Fire Marshal is tasked with performing several important duties, the goal of which is to help protect property and lives from fire-related hazards, and other associated dangers. To help accomplish this mission, the Simsbury Fire District currently employs a full-time Fire Marshal and a full-time Deputy Fire Marshal.
"An ounce of prevention is worth a pound of cure."
Never has that statement been more true than when it is referring to effective fire prevention programs. Therefore it is no surprise that fire prevention is a major aspect of the Simsbury Fire Marshal's Office, as these efforts come in many forms.
The FMO is responsible for the enforcement of many of the sections found in Chapter 541 of the Connecticut General Statutes, as well as numerous codes that are promulgated under the provision of these statutes. One of these requirements is inspecting existing buildings and facilities of public service and occupancies regulated by the Connecticut State Fire Safety Code. Some of these occupancies that can be found in Simsbury include, but are not limited to:
assembly halls
churches
day care centers & nursery schools
dentists' & doctors' offices
homes for the aged & nursing homes
hotels
laundries
libraries
restaurants
theaters
The object of these inspections is to determine whether or not an establishment is adhering to the fire codes, with the goal being to protect both the public, and any employees. The Fire Marshal's Office is also tasked with other inspection and enforcement duties such as:
Inspecting gasoline service stations.
Inspecting and enforcing regulations concerning the storage, use and transportation of liquefied petroleum gas and liquefied natural gas.
Inspecting tents and portable structures.
Conducting site inspections of fireworks and special effects displays, and determining the amount of fire protection and extinguishing equipment to be on site.
In actuality, fire prevention in these sorts of businesses and occupancies starts at their inception. The FMO reviews plans and specifications for various occupancies and facilities being proposed with the Town of Simsbury, in accordance with local and state regulations. Whether it is a new business in an existing structure, a new construction, or an addition or renovation, the Fire Marshal's Office works to ensure that all applicable codes are being followed.
Another important fire prevention initiative are the Public Fire Education programs which are run by the Fire Marshal's Office. You can learn about these in more detail further down on this page.
Fire prevention initiatives are only part of the equation because the reality is that no matter how aggressive or effective the Fire Marshal's Office fire prevention efforts are, unwanted fires and other emergencies are still going to inevitably happen, and the Simsbury Volunteer Fire Company will have to respond. To assist the Fire Company in having an effective emergency response, the Fire Marshal's Office devotes considerable effort in the area of Preparedness.
The available water supply is a significant consideration when planning for emergency incidents. In addition to fires, large volumes of water are needed for other incidents as well such as gas leaks and hazardous materials incidents.
While the Simsbury Fire District may own some the of hydrants, the municipal water system in Simsbury is operated by three separate, privately-owned companies. The Fire Marshal's Office works with the local water providers to place hydrants along the water grid to help ensure effective hydrant coverage for areas with municipal service. For areas without water service, the FMO and Fire District work to develop alternatives such as dry hydrants connected to draft sources, and in-ground cisterns.
An additional means by which the FMO helps prepare for emergency incidents is through pre-incident surveys of businesses and occupancies, and the development of "pre-plans" for the Fire Company. A pre-incident survey provides knowledge of a building's construction and layout, special hazards such as heavy fire loads or hazardous materials, fire detection and notification systems, and fire suppression systems and their associated stand-pipes, just to name a few.
During the survey, the FMO will make the necessary notes, sketches and photographs of important items. These will then be used to develop the pre-plan which is a simple visual illustration of the pertinent details of the structure and its nature. Pre-plans assist firefighters by orienting them to the structure and providing them with advanced information on what they will face upon arrival, which helps them to operate more effectively and safely at the incident. Each apparatus in Simsbury carries a complete set of pre-plans of the town's businesses, schools, churches, etc.
Another important duty that the FMO is charged with is investigating all fires within the Town of Simsbury so as to determine their cause, origin and circumstance. Investigating a fire is very important for several reasons. Knowing the cause of a fire can help prevent fires in the future. A certain scenario which was previously thought to be safe may prove otherwise under certain circumstances. Uncovering information in the investigation may lead to changing the fire codes so as to better protect the public in the future.
Fire investigations can help define patterns and expose dangers. For instance, on the surface, a fire caused by an electrical appliance might not hold a large amount of significance. However, the same model of appliance starting fires in a similar manner a crossed the nation holds a tremendous amount of significance.
Fires need to be investigated because of the legalities involved. A fire in a large structure can mean a large monetary loss to insurance companies, business owners, employees, etc. Was it accidental, or was it negligence? The implication is who is going to pay for it? Unfortunately sometimes it is intentional. If there is loss of life associated with a fire, the legal aspect is compounded tremendously.
The Office of the Fire Marshal is an important component in the fire protection effort for the Town of Simsbury. If you have any questions for the Fire Marshal's Office, please feel free to contact them.
PUBLIC FIRE EDUCATION
Fire Marshal Patrick Tourville conducts a Fire Prevention Week school visit along with members of the Simsbury Volunteer Fire Company.
An important service provided by the Simsbury Fire Marshal's Office is the offering of educational fire and life safety programs to the citizens of Simsbury. The Fire Marshal's Office commonly enlists the assistance of the Simsbury Volunteer Fire Company for these programs, as both partners believe that preventing an incident is far better than responding to an occurrence of fire, injury, or a hazardous situation that otherwise might have been avoided.
Learning to use an extinguisher at an Open House.
Many public fire educational programs are offered throughout the year. Probably our most visible effort is our Open House at the Main Station held in conjunction with Fire Prevention Week each October. Visitors to our Open House's have been treated to demonstrations of some of our technical rescue abilities, the Sprinkler Trailer Exhibit which demonstrates the effectiveness of a home sprinkler system, and received training in home fire extinguishers by using actual extinguishers on our waste basket fire simulator. The FMO and Fire Company members are also present and always available to answer questions and hand out literature regarding home fire safety at the Open House events.
Available to the public are several educational and awareness programs that have been developed by the National Fire Protection Association, and in-house by the FMO. Public fire education programs can be taken directly to a school, group, business or organization, as they frequently are. Visits to private and public schools are commonly held in conjunction with Fire Prevention Week. Fire extinguisher training is offered to the local government and businesses in our town. Sometimes community groups opt to make visits with us, as when the local Boy Scout troops visit our fire stations.
Inquire at your local fire marshal's office to see what literature may be available to the public.
In addition, there is much literature regarding public fire education available through the Fire Marshal's Office on topics such as home smoke alarms, home sprinkler systems, and choosing a fire-safe college or university for your children.
If you are interested in obtaining some literature or would like to inquire about scheduling a program for your school, community or church group, business or organization, contact Fire Marshal Patrick T. Tourville in the Fire Marshal's Office.
For those of you who do not reside in Simsbury, check with your local or state fire marshal's office to see what programs and literature may be available to you.