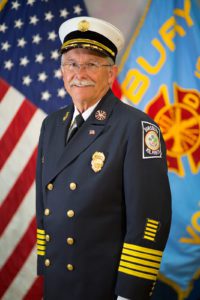 James A. Baldis
A member of the Simsbury Volunteer Fire Company since 1975, James A. Baldis was promoted to Chief of the Department in January 2005. As Chief of the Department, James Baldis is ultimately responsible for managing all aspects of the department. These duties include but are certainly not limited to developing Standard Operating Procedures for the Fire Company to operate by, establishing goals for the Fire Company and its members and providing the leadership and discipline needed to reach them, and managing emergency incidents as a command officer by providing direction and making decisions necessary to mitigate the incident.
Chief Baldis first became an officer in 1983 when he was promoted to Lieutenant. In 1993 he was elevated to Captain and assigned to the West Simsbury Station. Then in 1996, James Baldis was appointed to Assistant Chief, where he also served as the department's Training Officer during his tenure. Prior to his promotion as Chief of the Department, James Baldis served for nearly six years as Deputy Chief, second in command of the department.
Chief James Baldis has extensive training in the fields of business management and the fire service, making him well qualified to lead the department. He has attended the Business Management program at the University of Hartford and TQM Company Quality Improvement Training by the Forum Corporation, and is a graduate of the Times Mirror Executive Leadership Institute, just to name a few.
Chief Baldis has attended the Fire Department Instructors Conference numerous times, and has also taken many classes presented by the National Fire Academy of Emmitsburg, Maryland, and the Connecticut Fire Academy in Windsor Locks. Some of his qualifications include Trench Rescue and Confined Space Rescue, and state certifications as a Safety Officer, Hazardous Materials Technician and Medical Response Technician (MRT).
James Baldis is certified by the State of Connecticut as a Fire Service Instructor I, and has taught for the Hartford Country Regional Fire School at the Connecticut Fire Academy since 1980. He was named an Assistant Director of Training for HCRFS in 2003, Co-Director in 2010 and Director of Training in 2017 and his duties include coordinating instructors for classes, ensuring documentation requirements are met for training activities in order to achieve state certification, and overseeing all outside department requests for live fire training at the facility.
Chief Baldis is a member of the Fire Department Safety Officers Association, Connecticut Fire Chiefs Association, New England Association of Fire Chiefs, International Association of Fire Chiefs, International Society of Fire Service Instructors and the National Fire Protection Association. Chief Baldis also serves on the Education Sub Committee for the Connecticut State Firefighters Association and serves as President of the Hartford County Fire Emergency Plan. Chief Baldis is also a member of the Captial Region Hazardous Material Response Team serving as the Execitive Officer for the team.